Life is full of important rites of passage.
Weddings and funerals.
Baptisms and Confirmations; Bar Mitzvahs and Bat Mitzvahs.
Military service and college degrees.
This week, young Vlad experienced a major one, onethat not everyone else enjoys.
Namely, seeing his name for the first time in print.
Specifically in the glorious 25th anniversary edition of SARK's Succulent Wild Woman which is being released this Tuesday HERE.

I had to look up when SARK (aka Susan Ariel Rainbow Kennedy) and I actually met because it both a) seems like yesterday and b) also seems that we've always known each other.
(Plus before meeting, we were both aware of each other's work, so that muddies the waters even more).
Anyway, just for the record, it was January 2011.
It was an extremely sunny summertime morning in a hotel lobby in New Zealand.
Our mutual friend who'd generously gifted us a spiritual cruise vacation introduced us.
By the end of our first dinner––during our wildly enthusiastic bonding over some silly Bravo TV show SARK and I were both obsessed with––other people at our table simply volunteered to rearrange themselves so we could chat more easily sitting next to each other.
And, around the world and at home, that conversation has continued for over a decade.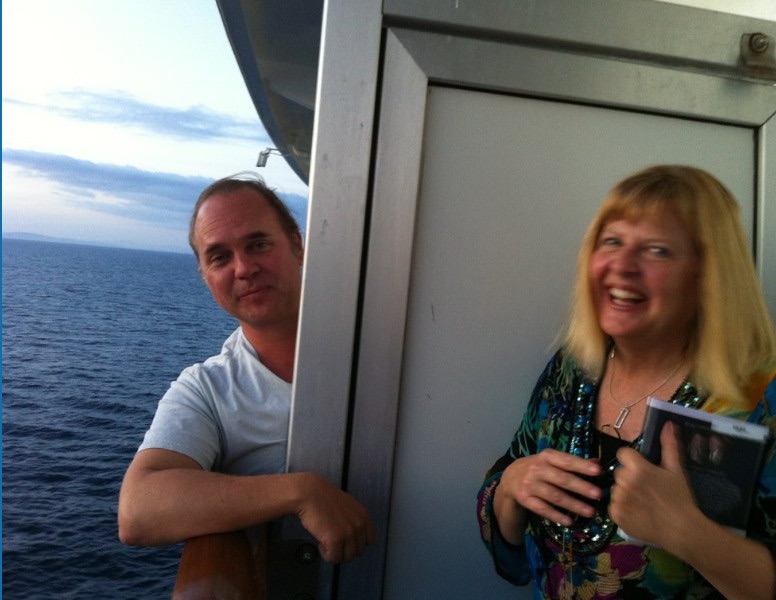 Since I like to keep these newsletter short and around 1,000 words, it's tricky to know what to write about SARK to celebrate the 25th anniversary edition of her landmark book.
I could quote endorsers ranging from Transformation Titans like Louise Haye and Julia Cameron, including of course, the great Maya Angelou who wrote:
"We, in this world, and this weary old world itself,
have a great gaping need for SARK.
Let's call for more and more SARK
to fill every child's book bag and each attaché case."
Impressive for sure, but I'm more likely to share from my direct experience with SARK/Susan.
For example, that she introduced me to the board game Transformation during our first adventures together as we were cruising along the Tasman Sea.
(Fun fact: The Tasman Sea lies between Australia and New Zealand and is named after the Dutch explorer Abel Janszoon Tasman, the first known person to cross it in 1642.)
And that SARK and I have since played Transformation in San Francisco, Alaska, Mexico, throughout the Caribbean, and probably in many more places I can't recall.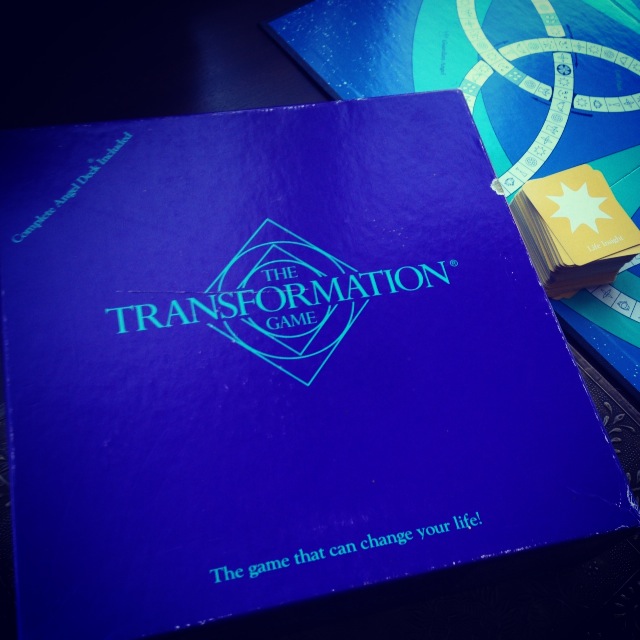 Or I could talk about life-changing moments we've shared, such as being there for the lunch when Susan met her future fiancé John…or the beautiful sadness of planning (with the amazing Amy Ahlers) his life celebration a few years later after he transitioned…or the more recent delightful moment when David appeared in her life and how happy they are together.
Or I might just focus on the incredible times that Belle and I had staying for a year in the Magic Cottage, the place Susan has immortalized in so many of her books.
Ultimately, given the limitations of space and time, for today at least, I'm just going to focus on one of the many qualities I so admire in Susan's work:
Her honesty and enormous vulnerability about capturing and sharing the fullness her experience…
And how immensely valuable that is for all of us.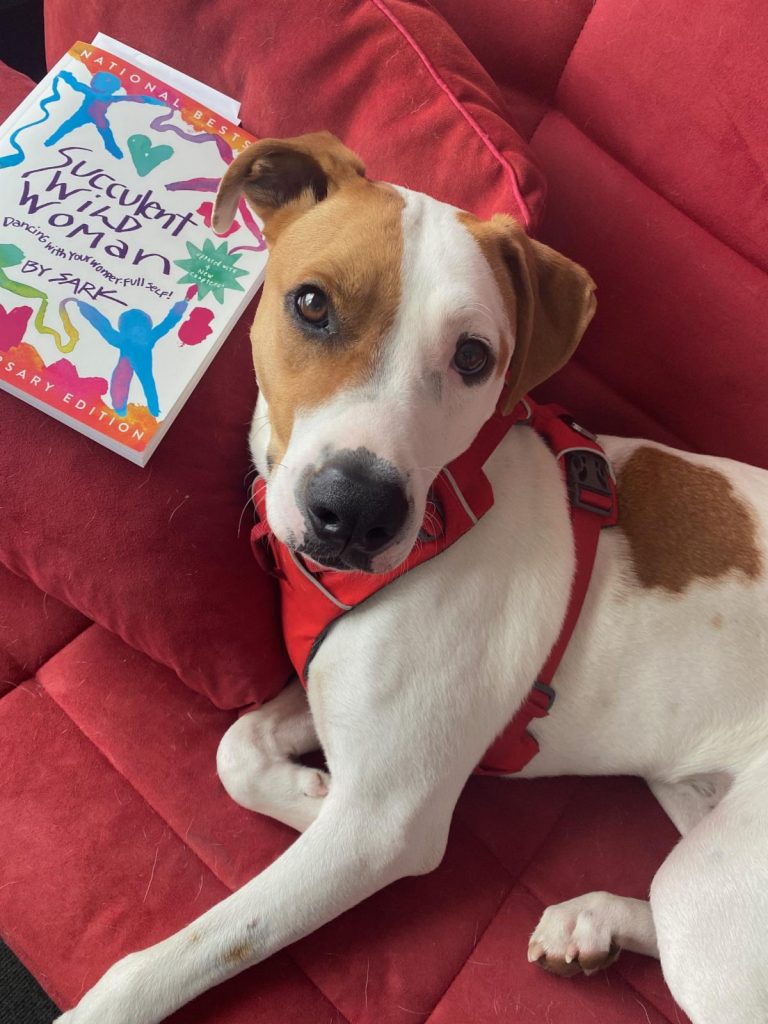 This is perhaps a slightly weird segue but …
In my 15+ years with Belle, I was NEVER the parent who was called to the principal's office.
Not to be gender-normative, but Vlad while being equally loving (and the most emotional and vocal dog I have ever met), has more than a bit of the bad-boy puppy streak in him.
He's in love with every person––particularly kids and pretty ladies (and I'm not kidding about that)––but there are some boy dogs he just doesn't like (Kingsley and Phoenix, for example) and vice versa (Bear, an otherwise absolutely adorable beagle, lunges at Vlad for no reason).
I'm steadfast in the hope that this tension will dissipate with time (and more training) but …
I've been struck by how on recent occasions, when it's come to some of Vlad's dog friends, that the primary owner has often been stoically silent, never volunteering their own anecdotes about their pup's misbehavior.
Unsolicitedly (or accidentally) a spouse has, however, as contestants on RuPaul's Drag Race like to say, "spilled the tea."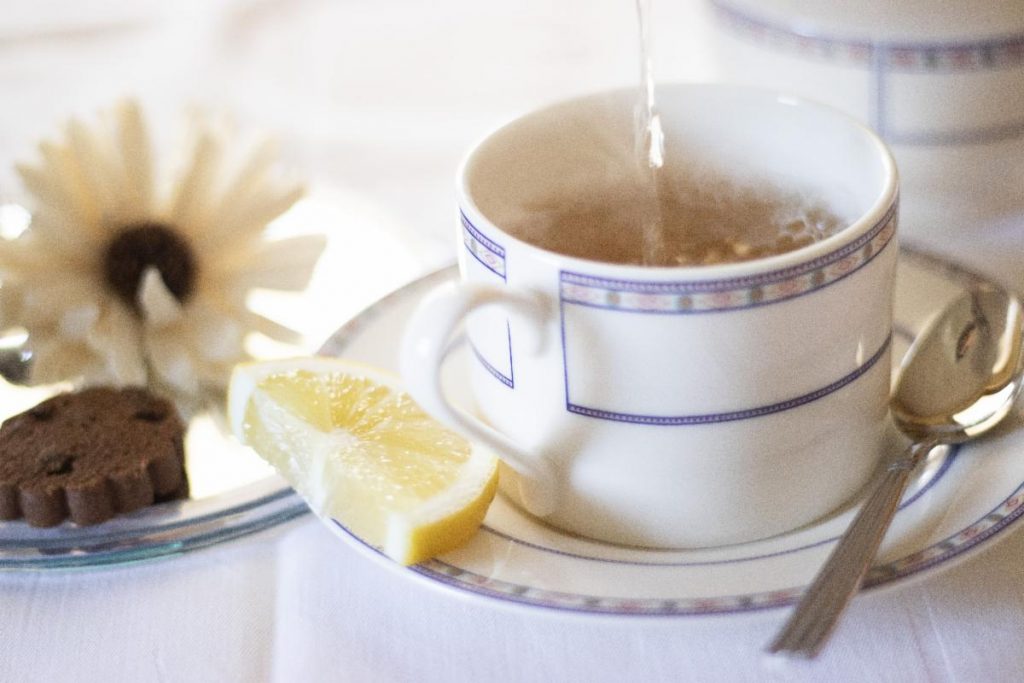 Vlad's sister Dua, for example, for reasons known only to her, just doesn't like a sweet corgi named "Donut."
Somehow that never came up with the primary parent until the secondary parent mentioned it to me late one night at the dog run, assuming it was common knowledge.
Puppy X (I'll preserve her privacy, like they used to do in gossip columns), one of Vlad's very sweetest, most mild-manner friends, apparently had a moment of instigating some very rough behavior at the ballpark last spring.
No one had told me about it until over drinks, Puppy X's other parent let it slip.
Learning that Puppy X––despite her cuddly IG profile––wasn't totally perfect made me feel so much better about my own parenting journey.
Sharing all parts of our story––the struggles and the triumphs, the heartache and the happy endings––has far more power to reach and genuinely transform others than our carefully curated clip reel.
SARK's a genius at this kind of sharing, of authentic self-revelation, one of the reasons why her work is so compelling and universally loved.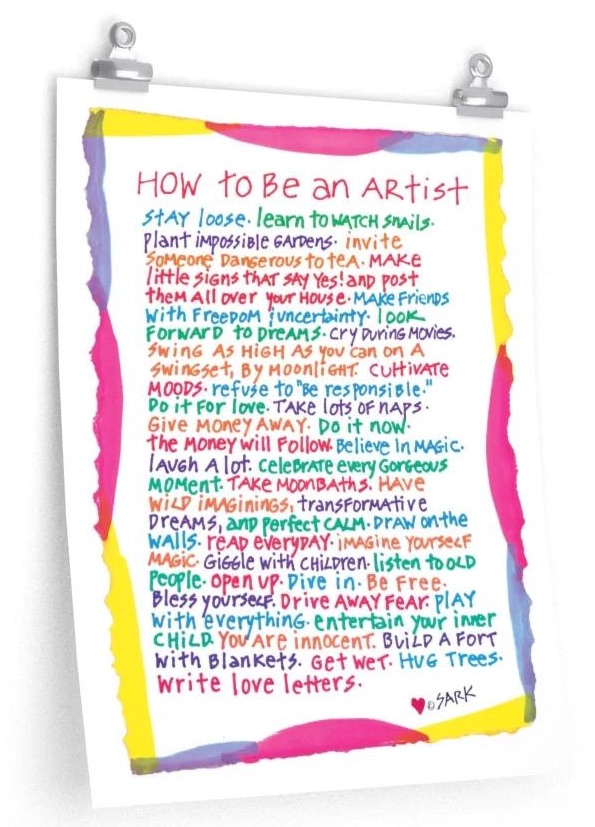 There's so much more I want to share about SARK's work and her impact in my life but I thought I'd end by offering one her most famous efforts, her HOW TO BE AN ARTIST poster (above).
As she says, it's the piece of writing and art that "started it all."
There are millions of copies out there in the world now.
It's how SARK lives her life and as fine an introduction to her work as any I can think of.
In fact, I think about it often, particularly when considering the "impossible garden" I have planted on my terrace, or whenever I "invite someone dangerous to tea" (like today), or adhering almost daily, practically religiously, to SARK's injunction to"take lots of naps."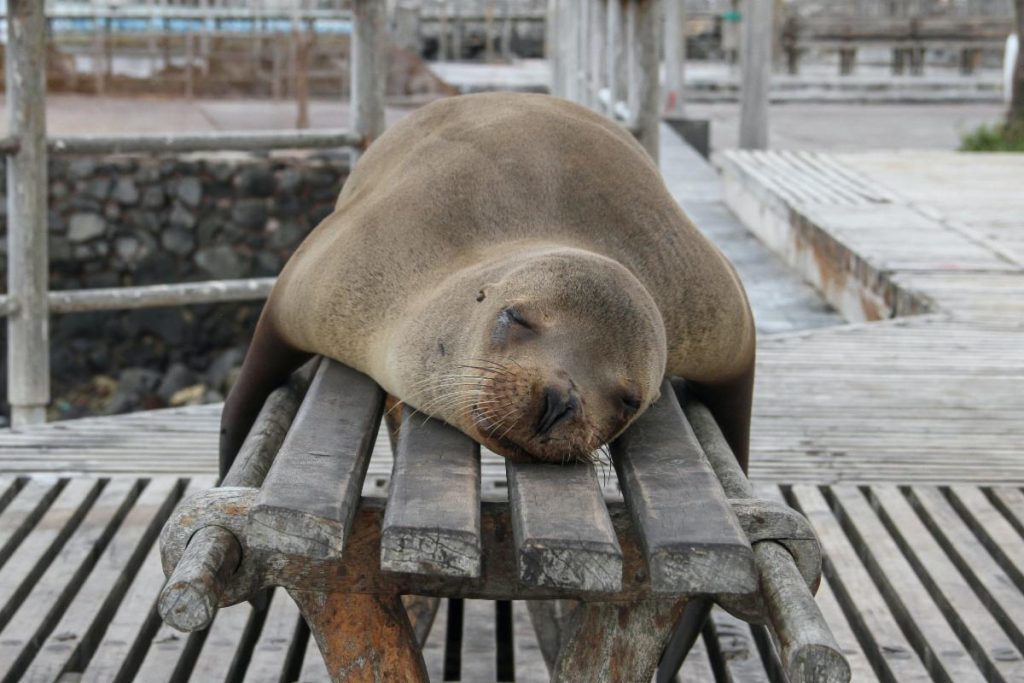 I had a whole dog park story about Zorro and Waffles planned(it's actually more about their dramatically contrasting parents) but it'll have to wait until next week.
Right now, I'm just interested in celebrating and sharing SARK with you.
I'm particularly excited to read the 4 new chapters she's written for her book HERE, particularly the section inviting us all to be:
"Spiritual Alchemists,
working to blend together the terrible and wonderfull things
into a brand-new healing mixture,
and then spread that mixture
as far and wide as we can."
That's what sharing the fullness of our stories does with those around us…and that's what SARK's work does for the world.
Namaste for Now,
Final Newsflashes:
SARK has a New FREE Starter Kit HERE if you want to get a taste of her work.
Plus SARK is doing a FREE Live Webinar on her launch day
Tuesday 6/14 at 2pm PST.
You can sign up for it HERE.
And just make sure you order the 25th anniversary edition HERE...
it's a book you'll treasure for the next 25 years yourself.